Roger Merritt's Home Page
What's New? 1998-2004
Christmas 2004: Our usual family Christmas activities at home went well. Two-days after Christmas we went on a trip to Baltimore, MD to visit Linda's sister, and a niece of ours from Berlin, Germany who is also living there. On the 28th, I went to Washington DC to visit the National Archives. I saw the Declaration of Independence and the Constitution on permanent display in their thick glass cases. After seeing the movie National Treasure recently, I just had to. The weather in the region was bitterly COLD on this day (contrary to the forecast), so I didn't feel like walking a lot. One unfortunate surprise was that my cousin Mike Merritt (from north of Chicago) was visiting DC on the same day as I (including the National Archives and other museums) and I didn't even know he was there until I'd driven back to Baltimore. What a missed opportunity to see him! Evidently, at home in Tennessee my Dad was trying to get in touch with me that morning to tell me Mike was in DC, but I (without thinking) had my cell phone off the whole time. What a pity...
October 30, 2004: We went to the Tennessee Aquarium in Chattanooga with my parents and my sister, and niece. It was pretty amazing; the kids loved it, as much as a two-year-old and a four-year-old can. We still got back home in time for Trick-or-Treating. Reanna was a witch again. The costume from last year still fits.
October 16, 2004: We went to Cheekwood Botanical Gardens (located south of Nashville) with my parents to see the "Playhouses and Forts" exhibit. There were ten creative, fantasy-like playhouses constructed for children to play in. We and Reanna had a wonderful time, and took lots of pictures.
October 2004: Congratulations to the Red Sox! Maybe there's hope for the Cubs yet. I was disappointed with the Chicago Cubs towards the end of the season. I really think they should have won the wildcard, but they choked instead. Here is a poem I wrote to sum up my feelings. Why? I'm a long-time Cubs fan. Need I say more?:
The Cubs choked again
No doubt about that
They should've won the Wildcard
But in the end they just went flat
There's no joy in Wrigleyville
Or in Cubs nation
This is the consequence of over expectation!
They had so much talent at bat
And on the mound
But injuries and inconsistencies
Spoiled our dream of a crown
Zambrano and Maddux were the best pitchers they had
And Rusch wasn't half-bad
But Clement never got any support
Prior and Wood did what they could
But, holy cow! Were they terrible!
The bullpen was sound, but when Borowski went down
Watching Farnsworth and Hawkins was unbearable!
Sosa's back seized when he sneezed, and he was out for a month
Achilles was the reason Prior and Grudzielanek benched most of the season
And Nomar came to the Cubs already hurt
Momentum was still growing but then Ramirez pulled a groin
And one-run loses shot them in the foot
Patterson struck out too much, and to the umpire, Alou pouted a bunch
As Baker juggled the lineup
They signed Nomar at the deadline to improve defense and scoring
But instead they led the league in solo-homering
The schedule was easy at the end
But to our chagrin they couldn't beat the Expos, Mets, and Reds
Even broadcasters Chip and "Stoney" vented regrets
The Cubs had egg on their heads!
There's no joy in Wrigleyville
Or in Cubs nation
This is the consequence of over expectation!
--Roger Merritt
September 14, 2004: Linda and I, including my parents, went to the U.S. Capitol Building in Washington DC to attend unveiling of Senator Arthur Vandenberg's portrait in the Senate Reception Room done by brother-in-law Shane Neal. Read all about it at www.senate.gov. We saw Tennessee Senators Frist and Alexander, among a number of other Senators (including Edward Kennedy, and Hillary Clinton), and distinguished guests. We spent one night (the 13th) in Alexandria, VA, and had dinner in the Old Town. We rode the Metro into DC and walked to the Capitol Building on the 14th, for the unveiling ceremony. I must say my impression of DC, as our Nation's Capital and a place of culture, was improved by this trip. This was my 5th visit to Washington DC, and it was a positive experience. Read my trip summary.
Labor Day, 2004: We went to the Bicentennial Mall Park in Nashville, with some friends. We picnicked, and the kids played in the fountains. There was a pleasant atmosphere. I tried out my new digital MP3 player in the car, and it worked ok through the car stereo. It's nice to finally have one of these!
June 30 - July 21, 2004: We made a long-overdue trip to London & Berlin for three weeks, to visit six of Linda's sisters and their families; dozens of old friends, and two of the greatest cities in the world. I slept in four beds, rented two cars, lived out of a carry-on bag, took a zillion photos, saw many sights, and managed to stay fairly connected with home via the Internet and email. For some strange reason, the Motlow site (and email) was inaccessible on the Web in Germany, but, luckily, I had my home email account to fall back on.
June 25, 2004: A California cousin of mine named Greg, and his daughter came to visit us. I met Greg via the Internet about 1.5 years ago and we have kept in touch ever since. My great-grandmother (on my mother's side) was his great aunt. His ancesters moved west in the early 1900s, but he has a keen interest in the family history.
June 10, 2004: My drive to-and-from-work today was made interesting by the 3rd annual Bonnaroo Music Festival near Manchester, TN. Read my anthropology report. If you don't have a clue what Bonnaroo is about, think Woodstock (1969).
May 23-26, 2004: Like last year in late May, we made a short visit to Linda's sister in Hamilton, Ontario, Canada. We also visited one of her cousins in Waterloo, about 50 miles NW of Hamilton. The whole trip was over 1,700 miles total, and went extremely well. We crossed the border at the Detroit-Windsor Ambassador Bridge crossing. I wish we had more time to spend visiting Canada!
May 8, 2004: This was quite a full day! I went to two graduations and a funeral. I got to hear two Tennessee Governor's speak: Phil Bredesen at the Motlow graduation, and former Gov. Winfield Dunn at the Lipscomb graduation. Plus, we went to the funeral of a long-time friend of the family in Murfreesboro (between the two graduations). What an unusual day.
May 1, 2004: We went on a daytrip to Helen, GA; a decent attempt at replicating an Alpine village in scenic North Georgia, and to Amicalola Falls, near the start of the Appalachian Trail.
April 17, 2004: Brother-in-law Shane Neal was invited to the christening of a brand new Navy battleship, the USS Nitze in Bath, Maine. He was invited because he painted a portrait of Paul H. Nitze a couple of years ago for the Nitze School of International Studies at Johns Hopkins University in Washington DC.
March - April 2004: We celebrated Reanna's birthday at the Rainforest Cafe at Opry Mills Mall. Plus, we went on some nice hikes to local scenic spots on a couple of Saturdays, plus some interesting places in the Cumberland Mountains, and went to Lookout Mountain on April 3rd, and rode the Incline.
February 15, 2004: We had a better than expected snow of about 4 inches. It was Reanna's first real experience playing in the white fluffy stuff! She had a great time and I went overboard taking pictures.
February 7, 2004: I went to the El Greco to Picasso exhibit at the Frist Center for the Visual Arts in Nashville with my brother-in-law Shane. The exhibit is from the Phillips Collection in Washington DC and it was wonderful. www.fristcenter.org
December 29-31, 2003: We traveled almost 500 miles to Natchez, Mississippi to tour three antebellum homes (Longwood, Dunleith, and Rosalie). On the way back to Tennessee we drove through Oxford, MS, and went to Elvis Presley's birthplace in Tupelo. The trip went very well, and the weather was gorgeous the second and third day.
November 2003: I decided to become a notebook computer nerd. Got a Dell Inspiron 5100, and love it. I'm a nerd because I still call it a laptop!
October 2003: Roger experienced a traumatic case of Chicago Cubs fever during the MLB playoffs (even worse than 1984 and 1989), but is trying to be philosophical about it. He's practically convinced the curse is real.
August 8, 2003: My dad, Reanna and I visited the Huntsville Botanical Gardens. It was exceptionally well-tended and landscaped. There was a treehouse exhibit, which we all found entertaining.
June - July 2003: We visited Trinidad. This was our first trip to Trinidad in five years, and Reanna's first ever. Read my travelogue at Trinidad #2.
May 25-28, 2003: We made a short, but enjoyable trip to Hamilton, Ontario, Canada to visit Linda's sister, and some other family relations. This was our first visit to Canada, and it went very well. The weather was good; the conditions were like early-spring all over again, and I was quite impressed with Hamilton.
April 29, 2003: Linda and I woke up at 4:00am when we felt a tremor caused by an earthquake in NE Alabama. It registered 4.9 on the Richter scale and was felt from south Alabama all the way to Kentucky, and from South Carolina to Mississippi. Pretty amazing considering no significant damage was reported.
April 4, 2003: Attended Tennessee Library Association conference in Chattanooga, TN.
March 13, 2003: Reanna turned 3 years old and had a birthday party with friends and family.
February 8, 2003: My sister and her family moved to Nashville,TN.
January 3, 2003: How about that Fiesta Bowl! My dad was very happy Ohio State won. He was teaching there the last time they won the national championship (1968).
December 2002: I had a rough Christmas break recovering from a tonsillectomy.
November 2002: The remodeling of our kitchen is complete, after a long wait for the cabinets to be made. We like the end result.
August 2002: I have discovered the joys of audio books on my commute to work.
July 2002: I recently became 1/4 owner of a pickup truck. My Dad is the primary owner, but I have never had one before, and my knowledge of pickup trucks has grown by leaps!
June 2002: I enjoyed watching the Soccer World Cup on TV. I followed it more closely than ever before (thank goodness for ESPN2). I really got a kick out of it, despite the big time differential, being played in Korea and Japan!
May 12 - 18, 2002: We went on a trip to visit Linda's sister in Baltimore, MD. We did some sightseeing in Baltimore, Annapolis, and Philadelphia. One of the highlights of the trip was visiting the Philadelphia Museum of Art, which was exceptionally good. And, in Baltimore, I/we explored for the first time, the historic districts of Bolton Hill, and Fell's Point; two lovely neighborhoods with 18th and 19th century houses.
May 2002: I finally finished my course work in Mass Communication at MTSU, and graduated on the 11th.
March 13, 2002: Reanna turned 2 years old and got some neat toys.
January 2002: I replaced several photographs on the site that were originally scanned poorly, or that contained a lot of bytes with better ones.
December, 2001: My sister Melanie gave birth to Mattie, at Baptist Hospital in Nashville, TN.
December 2001: I passed my comprehensive exams at MTSU.
September 3, 2001: We went to the Nashville Zoo on Labor Day with my Dad and some friends. Reanna had a great time, and we all enjoyed the day.
July 28 - 31, 2001: Linda's mother, two sisters (Veronica and Victoria), and two nieces (Susan and Kati) came to visit us. All but Victoria came from abroad. It was the first time her mother has been able to visit the U.S.A., let alone Tennessee, so it was a very special time for all of us.
June 24, 2001: The three of us, and my Dad went to the Air Show at Tullahoma Airport for the 50th anniversary tribute for Arnold Engineering and Development Center (AEDC), which is located near Tullahoma. We saw the Thunderbirds perform in the sky (Air Force fighter jets) among others. There was quite an exciting atmosphere at the show, which was truly special, considering it was in our own home town!
May 2001: We went on a much needed vacation, the 20th - 25th, to visit Linda's sister in Baltimore, MD. On the way we visited Monticello, near Charlottesville, VA. Unfortunately, it was a rainy day. The next day was much improved, and I went to Annapolis, MD, on my own. It is a beautifully maintained historic town; the capitol of Maryland, and the home of the U.S. Naval Academy. On Wednesday the 23rd, I went to Mt. Vernon, and Washington D.C. The weather was spectacular on this day, and I saw some sights I have not seen before: the Lincoln memorial, Vietnam memorial, and the Library of Congress. Overall, we had a great trip, just too short.
March 2001 Update: My parents moved into their new house in Tullahoma on the 16th, as planned. They have a lot of work to do to get settled. And, Reanna was one year old on the 13th! We are glad to have Reanna's Grandparents living one mile away, instead of 375 miles, for a change.
March 2001: The contract on my parent's new house in Tullahoma has finalized, and they plan to move in on March 16th. They are returning to middle Tennessee after living in other states for the past 40 years.
January 7, 2001: I was very sad to see the Tennessee Titans lose to the Baltimore Ravens in the NFL playoffs, on television. :-( The Titans had a fantastic season though, no doubt about it. And I'm glad the Ravens won the Super Bowl.
Christmas 2000: We stayed close to home this year for Christmas. Mom and Dad stayed with us for about two weeks. Melanie and Shane came to spend Christmas night, and we had a good exchange of gifts. Mom and Dad began house hunting on the 26th, and much to our surprise, they found a house. The contract is pending. If all goes well, they should begin moving in spring!
December 2000: My dad, Floyd Merritt, retired after 38 years of teaching on the college level (speech communications). He finished teaching his last semester of classes at Eastern Illinois University, where he taught for 30 years. He now plans to pursue some of his interests, such as traveling, and RVing around the country. Mom and Dad want to eventually move back to Tennessee.
August 15, 2000: We (plus my sister and Dad) went to visit Cheekwood Botanical Garden and Museum of Art, in Nashville, TN. The landscaping is excellent! The art museum is decent, consisting of a variety of paintings, photographs, furniture, plus silver and porcelain objects. There is a lot to see at Cheekwood--we were impressed.
May 23, 2000: We went on a mini-vacation to Callaway Gardens in Georgia. It was Reanna's first long trip, and she handled it ok. It was not too crowded on a Tuesday, so we had a pleasurable experience. To read more about Callaway Gardens go to their web site.
March 13, 2000: Today Reanna was born at 1:27pm, and weighed 7 lbs. and 1 oz., and was almost 20 inches long. We are very relieved and excited to be parents.
February 14, 2000: Today Linda is eight months pregnant, and we are moving into the last month. According to the doctor, our baby weighs 5.8 pounds right now. By-the-way, the name we have picked out is Reanna Louise.
January 1, 2000: This news will be old real fast, but I'd better get it in while I can. HAPPY NEW YEAR!!! 2000!!! Yeah, yeah, I know. Whatever!
Christmas 1999: Like last year, Linda and I went to Baltimore to visit Linda's sister Victoria. On the 26th, I went to Washington D.C. and went to the National Portrait Gallery and American Art Museum for the first time. These were very interesting, and will be closed soon for about two years of renovation work. I also went to the National Gallery of Art for the second year in a row. There were some fascinating exhibitions there. On the 27th, we went to Longwood Gardens again to enjoy the wonderful conservatory.
Thanksgiving 1999: My Mom and Dad came down to visit from Illinois for the week of Thanksgiving.
November 20-23, 1999: Pete and Dulcie Hodge visited us. They were co-workers of mine in London, from 1991-1994, and are English, but are now serving as missionaries in Albania.
October 27, 1999: Linda and I found out that we are going to have a girl. The expected arrival time is in mid-March 2000.
Late September, 1999: I updated some of my travel pages.
September 19, 1999: This is my parent's 40th wedding anniversary!
August 14, 1999: Linda's sister Veronica, and her daughter Kati came to visit us. They live in Berlin, Germany.
May-June 1999: We have been doing some landscaping in our backyard that has involved an arbor, building a lattice fence and pathway, and building flower beds, etc. It has taken a lot of hours, toil, and learning to use power tools again. My father helped a lot while he was visiting. Here are two examples of the work.
May 16, 1999: We went to Biltmore Estate, near Asheville, NC. We have wanted to go there for a long time and finally did. The weather was perfect, and the house and grounds were every bit as breathtaking as I imagined they would be. Our friends, Charles and Sandra Johnson went with us, and made very good travel companions. On the way back home, on the 17th, we drove through the Blue Ridge Parkway --almost heaven, in my opinion--and stopped in Cherokee, and went through the Great Smokey Mountains National Park. I wish we had more time for the Smokey's, but we never seem to have enough time for them. We got a good deal on a van rental, which made the trip more comfortable.
April 30, 1999: I attended the Tennessee Library Association convention, in Nashville, TN. The TLA meets in Nashville every two years, and this was the third time I have been to it. I listened to presentations about online databases, which index periodicals and newspapers, and heard the latest about legal cases involving the internet and censorship.
January 11, 1999: My Grandmother, Mattie Ree Hix died, aged 89. She was born January 6, 1910, in Raus, TN, and died in the same house she was born in. She was my last living grandparent, and had a large influence on me all my life. She attended Middle Tenn. State Teachers College from 1930-1931, and taught school during the depression years of 1932-1936. She raised a family of three children (my mother was the middle child) with my grandfather, Runa Duggan Hix (1908-1990), who also was a schoolteacher, and then she substitute taught some later. She had a strong faith in God, and always attended church, even twice the day before she died. She will be missed, and now the old house on the farm is empty.
December 1998: Visited Linda's sister Victoria for Christmas. She lives in Baltimore, Maryland. We left on the 23rd, and drove for 12 hours through freezing rain before stopping to spend the night in Lexington, VA. While we were on our way, Tullahoma was getting the worst ice storm in many decades, and was to be without power for 4-6 nights, depending on where you live. On Christmas Day Linda, Victoria and I went to Longwood Gardens, near Philadelphia, to eat, and walk around the outdoor gardens and conservatory. Longwood was built by Pierre DuPont in the early 1900's, and is considered to be one of the finest botanical gardens in North America. To read more about Longwood Gardens go to their very detailed website.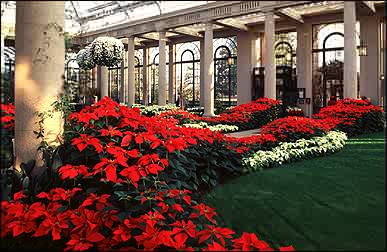 On the 26th, I went to Washington D.C., where I was hoping to get into the Van Gogh Exhibit at the National Gallery, but it was not to be, for they ran out of passes after I'd stood in line for three hours. This was disappointing, but I cheered up when I went in to look at the permanent collection of paintings. The collection was pretty good, and even contained about five Van Gogh's, as well as a lot of the master's of art. I bought some souvenirs at the official Van Gogh gift shop. At least I can say that I have already seen a lot of Van Gogh's paintings in London and Amsterdam.
The rest of the day I spent visiting the Ford's Theatre, where Abraham Lincoln was assassinated, and the Holocaust Museum. These were very interesting, and I did not get to spend as much time as I would have desired. The weather was cold in the low thirties, and I drove back to Baltimore that evening.
August 1998: Visited Trinidad, July 31 - August 14. Linda and I made a much-anticipated trip to her home country. It was my first visit there, and Linda's first in over six years. Trinidad is a culturally diverse country of 1.3 million people in the southern Caribbean Islands. Trinidad has a lot of unspoiled tropical forests, with hilly-to-mountainous ranges, and some flat-to-swampy farmlands. Trinidad is also one of the more industrialized of the Caribbean Islands with manufacturing, oil drilling, and refineries. Read more about our trip to Trinidad.
January 1998: I was officially appointed as Librarian at Motlow's McMinnville Center Library. Also, started graduate school at MTSU in Mass Communications.
---
What's New 2005
Home